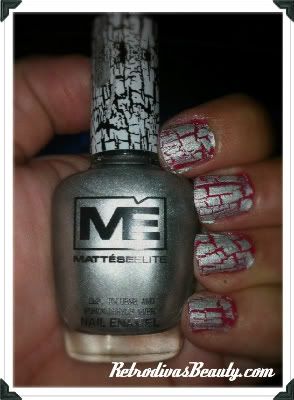 Have you tried the shatter effect on your nails yet? I admit, I was slow to hop on this trend train, but I have to admit, it does have a fun appeal.
You have to purchase the shatter polish – you can't use polish you already have. Here I'm using Mattese Elite Crackalacquer Nail Polish

in silver over Julep Nail Color in Drew. And you definitely need to ignore the state of my cuticles – I've been a stress bomb for a few months.
At any rate, the Crackalacquer is super fun, and easy to apply. It brushes on like any other nail polish, but as it dries, it separates and "shatters" into the effect you see here. Work quickly, as it does have a tendency to glob up and get more difficult to use the longer the brush is out of the paint. Make sure you use a good contrasting color under the Crackalacquer so that the effect is more pronounced. The Crackalacquer comes in gold, silver, black, pink, white, and blue – tons of options.
I promise your nails will get noticed, and those who aren't in the know will assume that you did some crazy nonsense to get your nails looking so very cool.
Mattese Elite Crackalacquer Nail Polish is only available at Rickys NYC, which is everywhere in New York City, and online at RickysNYC.com, and retails for $6.99.

© 2011, Retrodivas Beauty. Some rights reserved. Retrodiva's Beauty Blog by Meredith Edwards-Cornwall is licensed under a Creative Commons Attribution-NonCommercial-NoDerivs 3.0 Unported License. Based on a work at www.retrodivasbeauty.com.