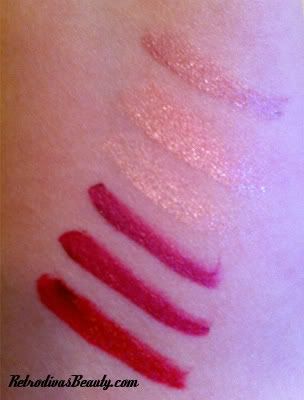 Putting on Serge Lutens lipstick is rather like sliding into an amazing designer dress that was created to fit your body perfectly. There is an overwhelming sense of luxury in these pigmented shades, one that simply cannot be compared to a drugstore lipstick.
At $75 a pop, these aren't for everyone. But they are refillable, which is nice. The colors are pure, and they are extremely long-lasting, as a lipstick should be.
On the swatch to the left, the colors are from bottom to top:
Mise a Mort – a pure red
Roman Rouge – red with a brick tint, excellent for warmer tones
Pourpre Maure – blue based red, excellent for cooler tones
Or Frele – the sheerest in the lot, with shimmer
Rose des Glaces – pinkish nude shimmer
Mauve de Swann – sheer mauve with shimmer
Serge Lutens lipstick line is best experienced firsthand. They are available exclusively at
Barneys.com
.
© 2011, Retrodivas Beauty. Some rights reserved. Retrodiva's Beauty Blog by Meredith Edwards-Cornwall is licensed under a Creative Commons Attribution-NonCommercial-NoDerivs 3.0 Unported License. Based on a work at www.retrodivasbeauty.com.