Glow-y and dewy skin has been the norm for quite a while now, and for good reason. It makes skin look younger, especially if done correctly. The problem usually comes in when too much shimmer or actual glitter is used – just say no to white shimmer on your face, kittens. Nothing (except major sun damage) ages you faster. 
The main reason why a highlighter or luminizer should be in your makeup arsenal is simple: when we blend our foundation into our faces, it can create a flat effect – especially with matte foundations. Contour and highlight give our skin depth and gives the illusion of sculpted facial bones. We will talk about contouring later, as it's just a bit trickier than highlighting.
Also, highlighting is really easy, especially with all the options out there. My current go-to for highlighting products is Benefit - they have three different liquid luminizers that are easy to work with, last forever, and give you just the right amount of highlight. Here are the three that are available in liquid form : Sun Beam, a bronze, Moon Beam, a shimmery pink, and High Beam, a cream colored highlighter.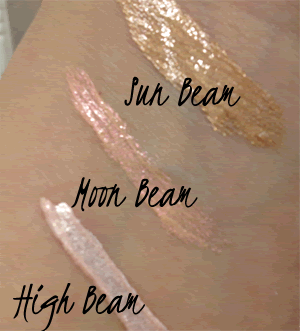 Now that we know what we're working with, what are we supposed to do with these amazing products? Something along the lines of this:
Yes, that is JLo. Isn't she gorge? I picked her because her highlighting is spot-on. Let's take a closer look at the areas we need to highlight:
Starting at the center of the forehead, make a downward pointing triangle. Don't go overboard, it doesn't need to be huge. Just make sure the point is pointing down towards the nose.
Next, bring your highlighter lightly down the bridge of the nose. You won't need a thick line, make it thin so that it doesn't spread down the sides of the nose.
Along the same thin lines (see what I did there?), draw lines along the side of your nose.
Now, one dot in the cupid's bow right next next to the lip.
On the chin, another upside down triangle. Make it small, please.
Go back up to the cheekbone area, and draw a thin line right along the upper line of the cheekbone. You can wrap it around in a "C" formation to the brow area, on the thinner side of your brow, right underneath.
Blend all of this really, really well. Use a blender sponge if you have one. I personally have been using Mehron's Face Smoothie sponge like it's going to bring me good luck or something, and at $11.50 it's much cheaper than other options out there.
And that's it. My super-simple highlighting routine. Do you use highlighter in your makeup routine? Why or why not?
© 2012, Retrodiva Media. All rights reserved.
Pin It